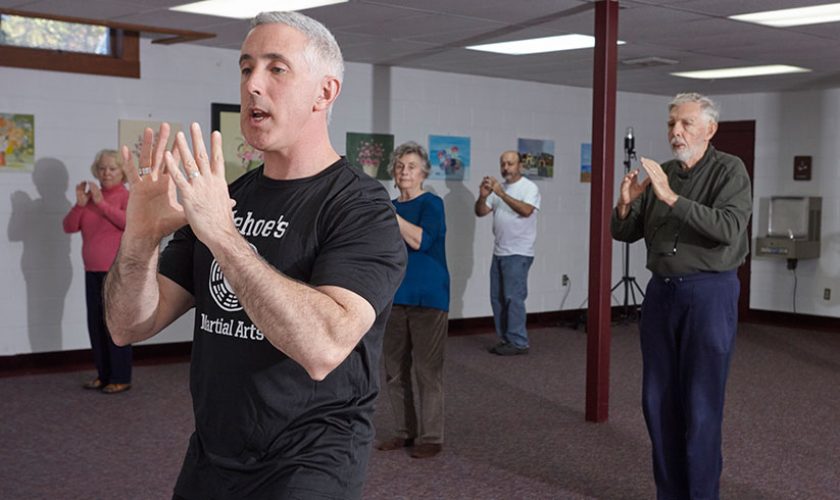 We appreciate your interest in Kehoe Martial Arts and hope this site helps you learn more about the study of Tai Chi and Qigong. Paired with more than 35 years of martial arts experience, Ed Kehoe created Kehoe Martial Arts as a way to spread the healing benefits of these ancient teachings to as many people as possible. In addition to learning more about Tai Chi and Qigong below, we invite you to learn more about Ed, his background, and qualifications.
What is Tai Chi?
Tai Chi is a form of moving meditation designed to help strengthen the body from the inside out. This gentle form of exercise promotes internal health benefits and produces an overall sense of calm. With a focus on keeping classes light and enjoyable, Ed creates an inviting atmosphere to entice students back class after class. The real benefits of Tai Chi come from consistent practice over time.
Often referred to as "the dance of Qigong," Tai Chi strings together a series of continuous movements to facilitate enhanced circulation throughout the entire body.
What is Qigong?
Rooted in Chinese medicine, Qigong is older than Tai Chi, yet related. The techniques used in Qigong are designed to improve internal health especially the internal flow of fluids. Most Qigong forms are a set of movements done in repetition. Where Tai Chi layers and strings sequences together, Qigong is more likely to focus on the benefits of repetition.
The benefits of Qigong can often be realized sooner than those of Tai Chi because less coordination and movement mastery is required. Due to similarities and successive nature of both teachings, Kehoe Martial Arts uses Qigong techniques to bookend Tai Chi classes and routines.
Kehoe Martial Arts offers classes, video instruction, and national appearances focused on the subject of Tai Chi, Qigong, and self-defense.
Now that you know a bit more about what Kehoe Martial Arts is all about, why not check out a class? Visit the calendar to find a class near you or contact Ed Kehoe for more information today!